Clivias Blaauwheim 5* Guest House style
Posted by Jo-Anne on Fri October 16, 2020.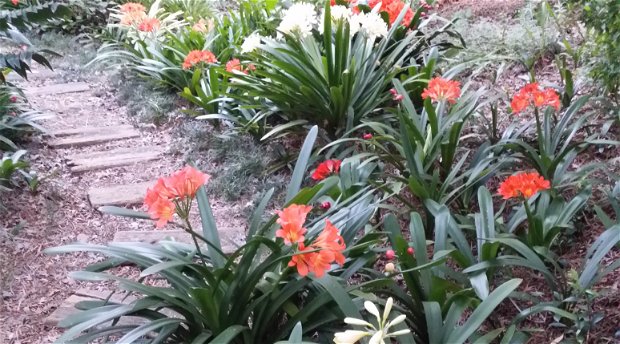 But thereby hangs a tale!
One of the most fortuitous decisions we ever made was not to sell our house in Somerset West in 1994 when Johan was posted to Kenia as the South African Defence Attaché. After Nairobi a period of almost ten years in Durban followed before we finally came home to establish Blaauwheim Guest House  in 2008. During the time we were away, whatever garden we had was neglected and destroyed. Fortunately the yellowwood, acacia and palm trees survived. There were no clivias in our old garden.
Nowadays visitors to our garden say our success is due to having such good soil. The resurrection of the garden started with mounds of compost being worked into the beds repeatedly. Having a borehole with a good water supply certainly helps.
Clivias have broad straplike leaves and thick, fleshy roots. These roots help them to survive in dry conditions. At the onset of the recent drought we noticed that clivias were out-surviving even agapanthus. They thrive in the dappled sunlight under the canopy of Blaauwheim's woodland garden as they would in nature. They bear their colourful flowers on long slender stems. Bright berries varying in colour from green and yellow to deep burgundy appear on sturdy stalks after the flowers have died. These stalks eventually become so heavy that they bend and finally rest on the ground. The seeds germinate in the plant debris and a myriad of seedlings can grow closely together. At Blaauwheim this is affectionately known as a "squatter  camp". Whenever I plant seed, I simply remove the fleshy part of the berry, make a hole as deep as the first joint of a finger, place and cover with soil or compost. I am an amateur gardener and accept what nature has in store without making a fuss! The bees unknowingly apply Mendel's laws of inheritance but I don't care! There is a "grow or go" policy in this garden.
Many people are not aware of the fact that clivias make excellent cut flowers. Simply put a full umbel or flower head into a vase and see how your centerpiece quickly becomes a conversation piece. They can last for weeks. I regularly use bunches of ripe berries for my Christmas wreath.
Blaauwheim's clivias come from many sources. We brought back the specimens we had in Durban, some came from a fête, my sister brought a few from Grahamstown and the lady with whom I stayed while marking Matric Exam Papers in Harding, KZN gave me a handful of berries. Our daughter Maritha has also been a regular contributor with clivias as birthday gifts. I also have a couple of "rescues" which I bought at a discounted price from a nursery. They were over watered and looked sad indeed but are now flourishing. Even Jan Volschenk, a well known dedicated grower, gave Johan a few plants, the first of which is now in flower. It is a gorgeous peach colour. There are actually too many sources to list here!
Bees and other insects are the main pollinators while slugs and snails can be a menace. I have often found berries with their fleshy part damaged but never a seed that's been eaten.
We have often been asked how much it cost to establish a garden with so many clivias. The answer is simple! Not much if you start with one or only a few. Initially we did not have many flowering clivias in the garden but Johan and I religiously shelled the berries and for the first few years planted each and every precious pearl.Trial and error... I literally stared plants into growing and the next thing they were flowering. Just plant the first seed or plant, add compost and water. Mother Nature will take care of the rest.