At Blaauwheim we create an indigenous South African Christmas wreath
Posted on Mon December 23, 2019.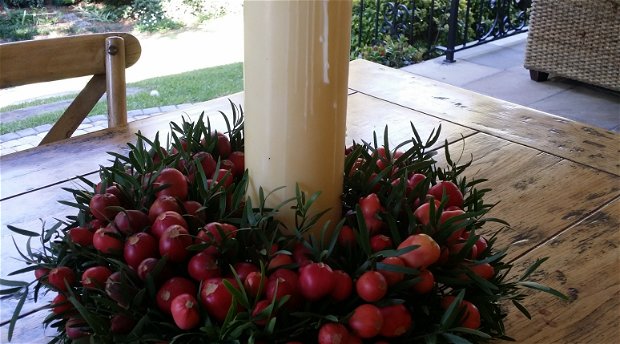 Clivia berries and yellowwood twigs make for a stunning indigenous Christmas wreath.
Blaauwheim has a garden with many mature trees which form a natural canopy. Indigenous Yellowwood trees (Afrocarpus Falcatus and Podocarpus Henkelii) and a huge Sweet thorn, among others, have created the ideal shady habitat to grow Clivias (C miniata and C nobilis).
Also being indigenous, the clivias flower prolifically in spring in colours ranging from pale yellow to deep red. The bees pollinate the flowers and then berries appear on the flower stems.  The new berries are green but last year's berries are now ripe and have turned into all shades of red. They are ideal to use in an indigenous Christmas wreath.
Soak the wreath (which I bought in a plastic drip tray) in clean water until the floral foam (oasis) is saturated. Pick stems that have well developed berries and give them a rinse and a good drink of water.
Cut the stems and press the bunches of berries into the foam. Pick branches or twigs to fill up spaces between berries and to conceal the oasis. To keep to my indigenous theme, I used foliage from the yellowwood. Confetti bush and buchu are alternative shrubs ideally suited for wreath making. Both of these are fragrant.
Place the wreath on a platter as it is rather heavy and akward to move without breaking off berries. This also makes it easier to add water to the oasis.
A sturdy wax candle finishes off the wreath.
Indigenous does not have to be boring! Carefully thread a strand of fairy lights through the berries for added atmosphere at night.
After the festive season all the clivia berries will be shelled and the seeds planted.