The first wedding at Blaauwheim
Posted by Jo-Anne on Mon March 2, 2020.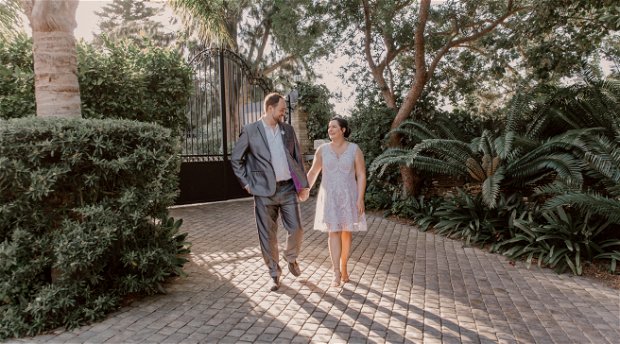 During December 2019 we hosted our first ever "Just Us" wedding at Blaauwheim. What a festive occasion!
We have had more than our fair share of brides preparing for their "big day" at Blaauwheim. The bridal party usually checks in the night before the wedding. The day of the wedding starts with a leisurely breakfast. Then pandemonium disturbs the quiet suburb of Jonkershoogte as service providers arrive to do from hair to make-up or deliver bouquets and messages. At long last the gate closes behind the nervous bride-to-be and all at Blaauwheim heave a sigh of relief that the bride was only going to be fashionably late.
This time around it was totally different. All three our rooms were booked well in advance by the prospective bride. Every single thing was done timeously and all questions from our side answered promptly. They came for a site inspection to decide which room they wanted.
At last the big day dawned. The three young women arrived with dresses, flowers, the cake and all sorts of needful things. Another lady entered with an array of beauty equipment and promptly started curling and colouring in.
The three guys came much later. They did not even show a glimpse of nerves. The wedding official rang the bell and the photographer arrived with all her paraphernalia.
The maids of honour scurried all over to get everything ready. They were so well prepared that Johan and I could just enjoy that history was being made at Blaauwheim and that without a single worry. Even Rafiki the Schnauzer calmed down, having had enough barking opportunities for the day.
Our bride looked absolutely radiant when she came down the stairs to meet her groom who was waiting to escort her into the garden.
Excitement toned down with the realization of the solemnity of the occasion. The wedding official is also an ordained minister and captured her small audience with her words of wisdom. Wows and rings were exchanged, reminding us of our own wedding 41 years and one day ago...
The register was signed inside the house to make and keep everything legal.
With all formalities over, champagne corks were popped and glasses filled and raised to toast the newlyweds and wish them a long, happy, fulfilled life together as husband and wife. The cake was cut amid lots of cheers and laughter.
At long last the bridal party took off to a fancy restaurant for a celebratory dinner.
What a memorable day in their lives and the history of Blaauwheim this has been!
Dear Koos and Ingrid
Thank you from the bottom of our hearts for sharing this eventful day with us in person and in pictures. May this new chapter in your lives be a very long and happy one.
Johan and Jo-Anne 
blog comments powered by

Disqus